The 7 Best Portable Digital Pianos with Weighted Keys
In this article, I'm going to help you discover the best portable digital pianos in 2019 that have weighted keys and very good key actions.
And, in order to better help you weed out the contenders from the pretenders, we've compiled the table below that showcases some of the top portable digital pianos on today's market.
Finding the Right Digital Piano
For accomplished musicians who tend to be rather fussy about the quality of their instruments, not just any old plastic $49 keyboard will do. Musicians who take pride in their skills and their music demand instruments with better quality and more features. Thankfully, the manufacturers of digital pianos and portable digital pianos have been listening to the needs of musicians all over the world.
The advances in digital piano technology have resulted in the creation of some fine and versatile portable digital pianos and keyboards that have authentic piano sounds, as well as other instrumentation, and which are not out of the financial range of many beginning aspiring musicians.
I've researched portable digital pianos and keyboards, and here is what I found:
Williams Allegro III Digital Piano
Williams Legato III Digital Piano
Yamaha P-125
Yamaha P-515
Kawai ES-110
Kawai ES-8
Casio CTK-2500
Williams Allegro III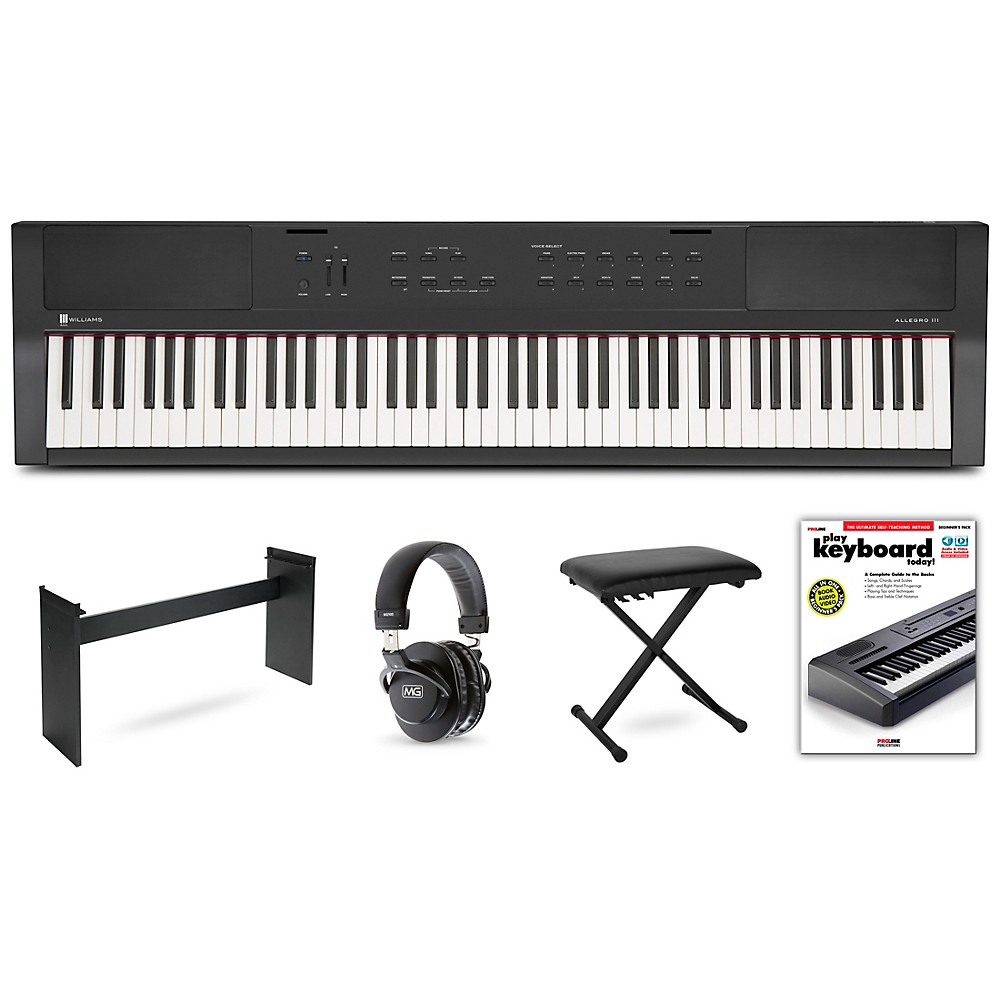 I had never heard of the Williams brand of digital pianos. This instrument pleasantly surprised me! The Williams Allegro III digital piano has a full 88 keys, all weighted piano action keys for an acoustic feel. This instrument offers 6 various sounds: piano, electric piano, organ, strings and bass. Like most modern digital instruments, it is Bluetooth and MIDI capable, and Williams offers a free downloadable Williams iOS app.
This app provides access to all of the functions of this keyboard, as well as self-teaching aids to help you continue to improve your musical skills. As most digital pianos do, this instrument includes a built-in metronome to help a budding musician learn to keep a steady beat or to help a more advanced musician work out challenging rhythmic passages. This instrument has an optional keyboard stand, should you decide to give it a permanent position in your home. With or without the stand, the Williams Allegro III digital piano makes owning a portable digital piano affordable and fun.
And below, please take a look at some of the best selling digital pianos currently on sale online (and see how they compare to the pianos we discuss in this article):
Williams Legato III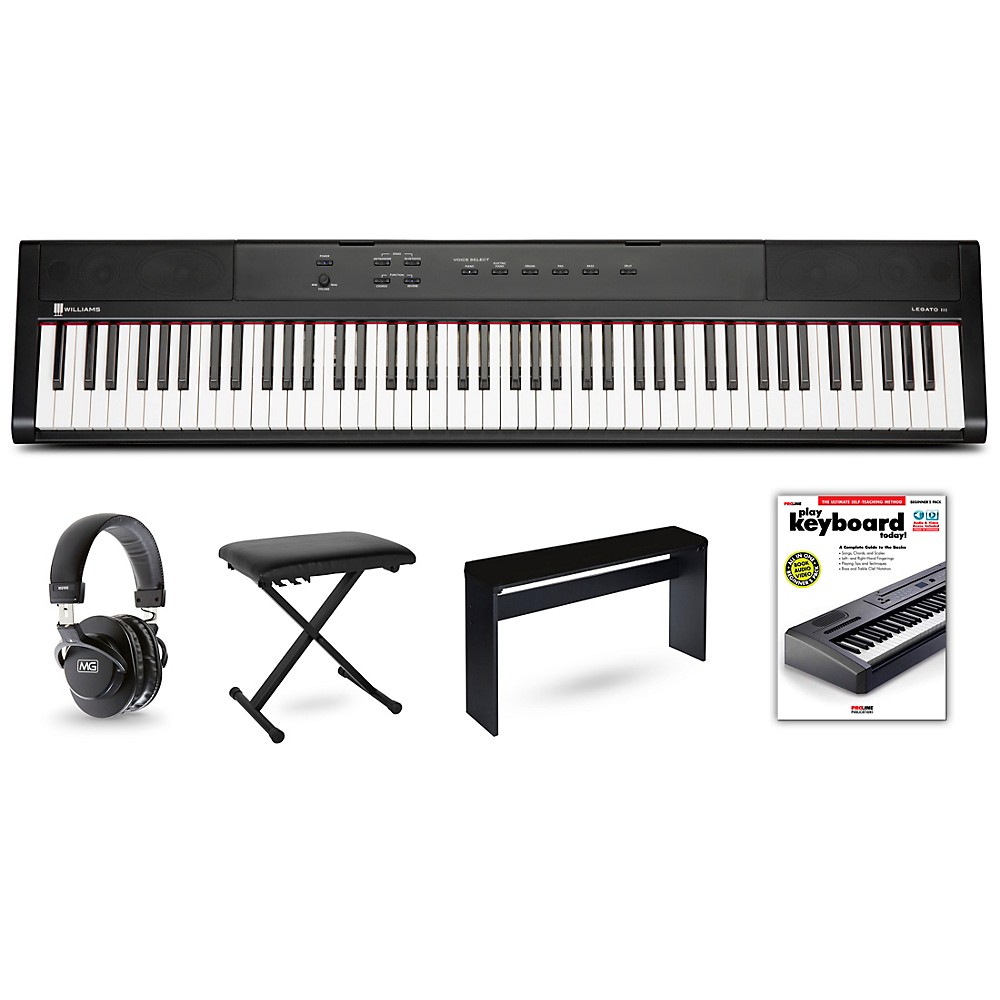 The Williams Legato III digital piano is a slight upgrade from the Allegro III in the Williams portable digital piano line. Many of the features are the same, and the manufacturer does offer an optional keyboard stand for this model of their portable digital pianos, as well. This version offers 10 sounds instead of just six.
As with the Allegro III, the Legato III featured 88 full-size keys with weighted action, Bluetooth and MIDI capabilities, and the free downloadable iOS app. Both of these instruments have attached music stands that are sturdy and capable of supporting any size tablet desired. Both instruments also offer dual-driver, full-frequency speakers built in. These instruments retail from $300 to $400, depending upon which package (if any) you choose to purchase. A good value for the money.
The Yamaha P125 digital piano (my favorite brand) features an upgraded speaker system that sends the sound in two directions—upward and downward. This creates a richer, much fuller sound than the traditional downward-facing speaker systems in past models. This instrument also features what Yamaha calls a Stereophonic Optimizer for the headphones, which revises the spatial distribution of the sound as if it was coming from the piano, rather than through the headphones.
It also has a built-in metronome and transpose option. The keyboard only weighs 26 pounds, which means it is truly portable. A matching keyboard stand and a 3-pedal mechanism are available as optional accessories. I did not notice an available bench, but I'm sure Yamaha has several models you can purchase. This Yamaha instrument retails for about $1,000. That's a terrific price for any Yamaha digital piano!
Yamaha P-515
You can never go wrong with a digital piano/keyboard with piano sounds created with samples of the Yamaha CFX flagship concert grand piano and famed Vienna-made Bösendorfer Imperial grand piano. These two grand pianos leave most of the others in the dust for their tremendous sound quality and tone and for their huge sound.
The Yamaha P-515 was created using sampling from these two outstanding grand pianos. This instrument also includes the Stereophonic Optimizer mentioned in the description of the Yamaha P125 above, as well as Binaural Sampling (sampling recorded with two microphones placed strategically to enhance sound quality and the 'stereo' effect). The 88 keys are created using natural wood through a process fine-tuned (pun intended) after many years of creating fine quality acoustic instruments.
These natural-feeling keys also utilize technology to mimic grand piano escapement—the little 'bump' that occurs as you press down the keys lightly on a quality grand piano. The P-515 utilizes enhanced Virtual Resonance Modeling, a distinctive reverberation generated not just by the strings of a grand piano but by the wood body of such an instrument itself. This reverberation in an acoustic grand is achieved by adding extra, un-played strings in the treble end of such an instrument, which sympathetically vibrate as nearby strings are struck.
These strings are not dampened in an acoustic grand and will continue to sound after the player's hands are removed from the keys. Adding this distinctive and rich resonation to the P-515 brings its sound very near the sound of these magnificent concert grand pianos.
The P-515 is suitable for advanced musicians and also for beginners. With its rhythm playback feature of 40 different rhythm patterns, this feature allows you to play with a built-in 'musical ensemble' or even to compose your own music. The Yamaha Smart Pianist app allows you to control the many functions offered by this instrument using your tablet or smart device.
This app can even create a chord chart for the music in your tablet or smart device musical library so you can play along with your favorite songs or pieces. Chord charts are used by professional musicians in the pop, country, jazz, and other modern genres of music-making.
This instrument is a bit pricier than many of the others at $2,000. But the sound quality and richness of tone will be several levels above the instruments already mentioned.
Kawai ES110
Kawai has been making fine acoustic pianos since 1928. It should come as no surprise that they take as much pride in their digital instruments as they do in their fine acoustic pianos. The Kawai ES-110, which retails for around $700, is one of their finest mid-priced 'portable' digital pianos. This piano features full size 88 keys, weighted and integrating the Kawai Responsive Hammer Compact Action.
This action allows the keys to have the touch and sensitivity of an acoustic grand piano. The piano has 19 sounds onboard, including 8 beautiful and realistic piano sounds. As is typical of today's digital pianos, the ES-110 is Bluetooth and MIDI capable with any tablet or smart device.
It features Duel and Split keyboard modes; duel allows the keyboard to have 2 44-key duplicate keyboards for playing duets with a friend or teacher, and split mode allows two different instrument sounds to be played at the same time on the same keyboard. The feature that I was particularly impressed with was the built in Alfred Piano Lessons.
Having taught piano for almost 35 years and used many different teaching method materials, I find that Alfred is by far my favorite piano method that I didn't devise myself. This feature could save the buyer a great deal of money, especially if there is some question whether the student will wish to continue learning to play the piano. Qualified piano teachers don't come cheap, and they shouldn't!
Kawai ES-8
If you prefer something a little more loaded than the Kawai ES-110, then perhaps the Kawai ES-8 would suit your needs. From what I can tell from my research, the ES-8 replaced the Kawai ES-6 digital piano model and all of the other ES models before it. This instrument utilizes Kawai's RHIII (Responsive Hammer III) technology that blends the action and mechanisms of an acoustic grand piano with the technological advances of Kawai's triple-sensor key detection system.
This blending creates a highly responsive attack using plastic keys, one of the features that make this instrument so portable. (Wooden keys are considerably heavier than plastic keys. This instrument only weighs 49 pounds!) This piano also incorporates USB technology that allows files to be shared and enjoyed through the powerful speaker system built into the keyboard.
The musician can enjoy 34 different instrument sounds, 100 accompaniment styles, and the maximum 256-note polyphony to create original music. A classy designer stand is optional, as is a 3-pedal lyre, both of which attach to the ES-8. This digital piano retails for about $2,200, making it one of the more expensive models discussed.
Casio CTK-2500
For a fine Casio digital piano that is highly portable but still provides a big sound, consider the Casio CTK-2500. It boasts 61 full-size keys and 400 different tones. It also includes 150 built-in rhythms and a Dance Music Mode for fun at the beach, picnic, or campsite. (It runs on batteries or with the included DC adaptor.) In the Dance Mode, you can even remix your favorite songs and stretch your arranging skills.
This instrument will connect to your iOS or Android devices and offers a free Chordana Play app, which shows you how to play your favorite songs by downloading them into MIDI files. An X-type keyboard stand is optional, as well as a bench and headphones. The CTK-2500 is truly portable at less than 8 pounds (without batteries), yet offers a great experience as you experiment with sounds, accompaniments, and the many features of this digital instrument. This piano retails at $100, which makes it wallet-friendly, as well!
Obviously there are hundreds of digital instruments on the market today. The good thing for a buyer is that, with a little time and study, you can figure out what features are most important to you and which pianos suit your needs best—a portable digital piano or keyboard, a digital piano that is integrated permanently into a stand, or maybe even an acoustic piano.
One of the most important things to realize is that you should never 'settle' for an instrument that isn't exactly what you want in a piano. Pianos can be a lifetime investment and even a family heirloom passed down from generation to generation. Take care to get the very best instrument you can afford that will meet the needs of you and your family. You never know: you might have a budding Mozart, Paul McCartney, or John Williams on your hands!
If you enjoyed this article, please "like us" on Facebook!
You Might Also Like: